November 22, 2015: This is a new format which I hope is easier to navigate. Use the arrow keys to go forward and backward. Let me know if you like this design. Mail to bob@bobwaid.com.
1. Last week I reported that this was the only albatross to return to the neighborhood by the 15th, which is extremely late for the return of the adults. Fortunately, we have seen the arrival of many more albies in the last week. Thankfully, they are just coming later than usual.
2. As you can see by the number on the leg tag, KP531 was one of the first former parents to return on the 17th. This adult has fathered 7 chicks over the years, but with 3 different mates.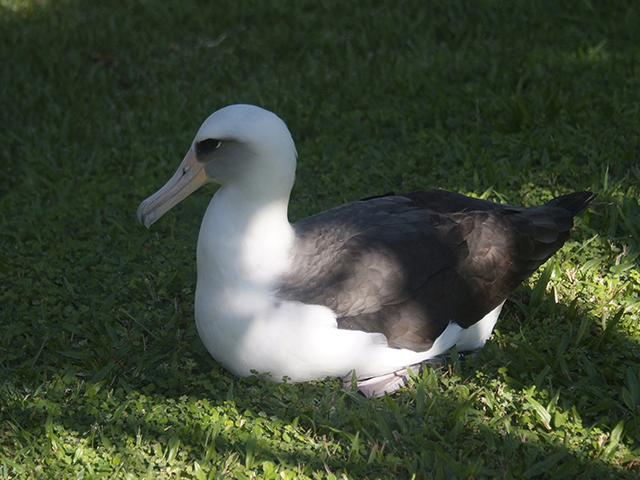 3. Last year he raised Uno with his new mate KP407. Usually the male arrives first, followed by the female later in the day or sometimes even days later.
4. Three hours later, his mate KP407 arrived to have a very noisy and enthusiastic reunion.
5. Later they settled down to spend some time together.
6. Two days later K233 showed up next door. He is the father of Ana Melia, Nola, CJ, and last year's chick Fern in our yard. He is still patiently waiting for his mate to appear.
7. One of our favorites, KP618, arrived about 20 minutes later. He was raised as a chick himself in a hedge by our driveway, 11 years ago. Since maturing, he has raised 4 chicks (Barney, Lulu, B J, and last year Weber. All chicks have been raised in the same hedge where he was hatched.
8. His first mate disappeared after 3 years, presumably killed at sea. He took a new mate last year to raise Weber.
9. KP618 purposely walks back to his hedge, sitting down to wait for his mate to return.
10. Another couple reunited in the last week is KP251 and KP519. This is a female/female couple which works just as hard to raise a chick as any male/female pair. While biology is not in their favor, occasionally one of the pair will have a chance encounter with a roaming male which gives them a fertile egg. In the 2012 season this pair raised Winslow near our courtyard wall. LAST SLIDE
Next month we should see the first nests with eggs. Each pair normally lays their egg in the last week of November and the first two weeks of December. We will also see a large number of unattached adults prospecting for mates. Some of the unattached adults are older birds who may have lost a mate from previous years. Others are returning chicks 3-7 year old. Adults normally start breeding around 8 years old.