June 14, 2016: Chicks are banded
New feature: check the "Video" page to view a 15 minute video on the life cycle of Albatross chicks.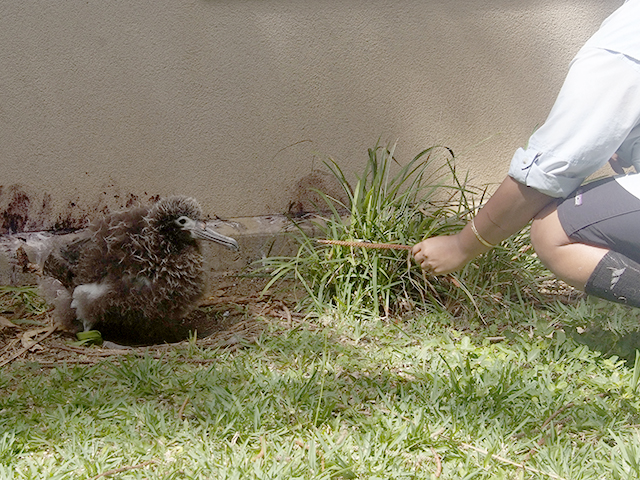 1. On May 16, all of the Princeville chicks were banded by the staff from the state department of wildlife, working on the behalf of the US Fish and Wildlife Service. The first member of the 3 person team approached Journey to distract her.
2. A second member of the team grabbed Journey from the back, making sure to hold the head. If the head is loose, the chick can peck at the staff. Having worked as a volunteer in the past, I can personally vouch that an unsecured beak can draw blood several times during the process.
3. Now that the bird is firmly controlled, other members started to manipulate the legs to get access for securing two tags.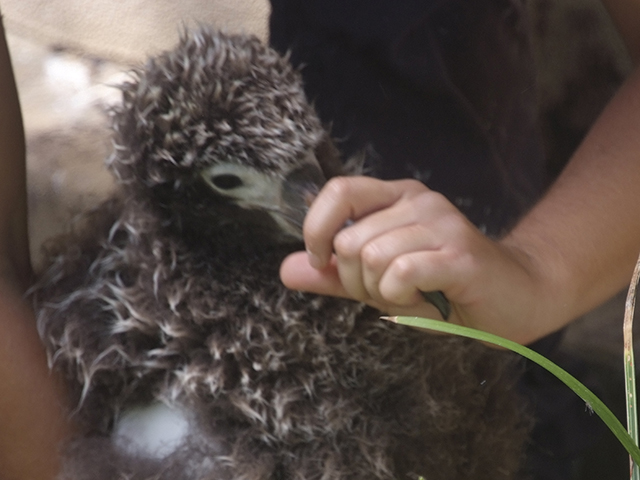 4. All the while, Journey watched. This was the first time she had ever been touched by humans.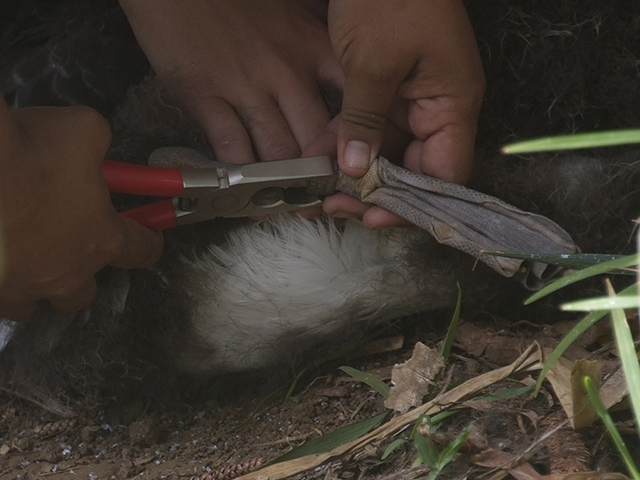 5. The first band was crimped into place on one leg. This band is metal with an official FWS number engraved.
6. Being metal and crimped into placed, this is the permanent official band recorded in the national data base. By its nature, it will never come off while the bird is alive.
7. The second band is made of plastic with much larger numbers which can be read at a distance with binoculars. This number is used by volunteers and biologists observing the behaviors of the bird over its lifetime. Here the staff spreads the plastic to fit over the other leg.
8. Once released, Journey shook off the experience and strutted around. Meet Ms. H225.
9. The other chicks in the neighborhood are doing well. They are also moving around much more, sometimes testing their wings in the breeze. Here is Paris sitting on the driveway near one of the cars.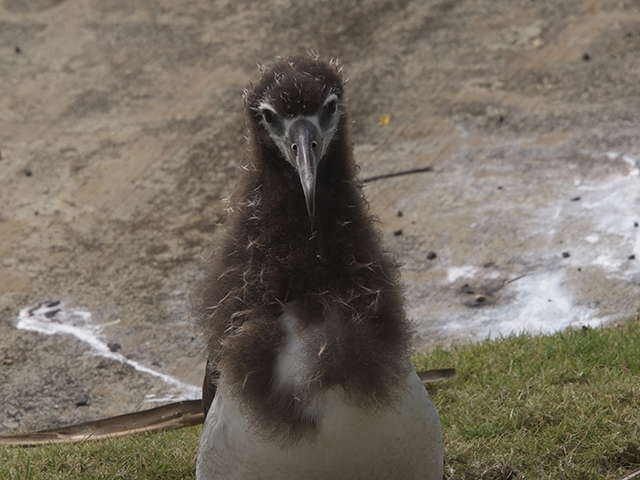 10. This is an unnamed chick by another driveway. You can see the loss of baby fuzz, now mostly on the head and chest.
11. "Peace" actually spends most of the time on one of the three natural launch sites for chicks fledging. When the wind is right, the top of the hill is great for the first takeoff for a chick. They fly out over the trees to reach the ocean beyond.
12. Peace looks very regal with her impressive hairdo. The earliest hatched chicks will probably fledge within the next two weeks. Almost all will be gone by the end of July.
13. Richard Burrows (visitor from Sydney, Australia) contributed this photo of a chick on the golf course spreading its wings, getting a feel for how the wings work with the wind. While they may hop into the air, they will not actually fly until their fledging date, their first flight. LAST SLIDE