April 14, 2016: Chicks are thriving
New feature: check the "Video" page to view a 15 minute video on the life cycle of Albatross chicks.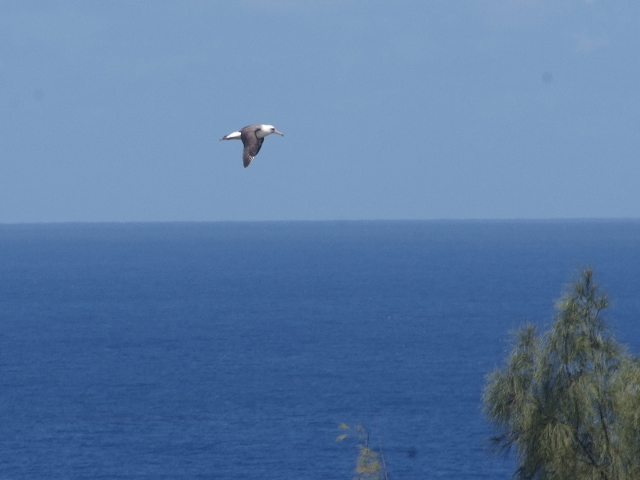 1. Every day we see adult albatross flying around the neighborhood. They show incredible grace as they glide effortlessly on the gentle breezes. Flying in large circular patterns along the bluffs, they can glide for hours, flapping their wings only occasionally.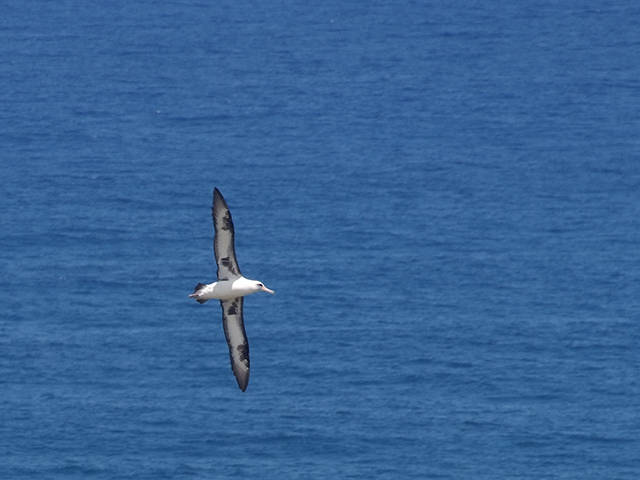 2. This appears to be recreational flying since the albatross do not feed in the waters close to Hawaii. Instead they fly 600-1500 miles to the Arctic waters where they set down on the water and skim their food from just below the surface of the water.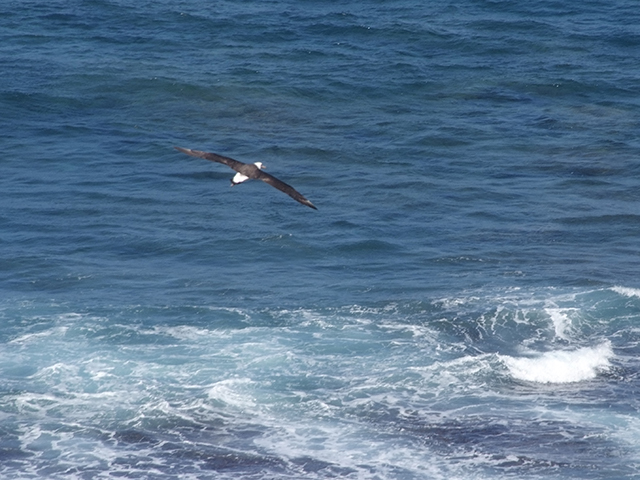 3. They often swoop down from high above to skim along the water. Most of the birds in the air are unattached adults who later land and spend their time socializing with potential future mates. Some, of course, are returning parents to feed their chicks, but they tend to fly straight away back to the prime fishing grounds.
4. Here are three unattached birds, all of them former chicks from Kauai. In front are two birds hatched in 2007, not named (possibly hatched on golf course or at the refuge). Walking away is "Andy" who fledged in 2011.
5. "Journey" continues to grow and prosper. When the wind ruffles her fuzz, we can see the white of her adult feathers beginning to form under the fuzz.
6. The next three photos show her dad (KP618) feeding her. Once they are reunited, the chick pecks at the parent's beak impatiently signaling it is time to eat.
7. Dad lowers his head almost to the ground and opens up his beak. Journey gets into the feeding position.
8. As dad raises his head up, the transfer of food begins between the two beaks. Often you can see chunks of fish slipping into the chick's open beak. Also in this process, the parent transfers desalinated water, processed from the fluids in the fish and sea water. This is the chick's only dependable source of water.
9. After feeding, Journey walked over to visit with Barney, also an offspring of KP618 (2010). Seen here, Journey is on her way back to her nest.
10. A frequent visitor to the neighborhood is KP401, an adult that is at least 12 years old. He (or she?) displays often with other birds in the area, but so far has not mated. This photo was taken just before sunset, so the lighting is dramatic.
11. Never get into a staring contest with an albatross. They will win every time. LAST SLIDE.