February 15, 2016: Use arrow keys to navigate through the pages.
New feature: check the "Video" page to view a 15 minute video on the life cycle of Albatross chicks.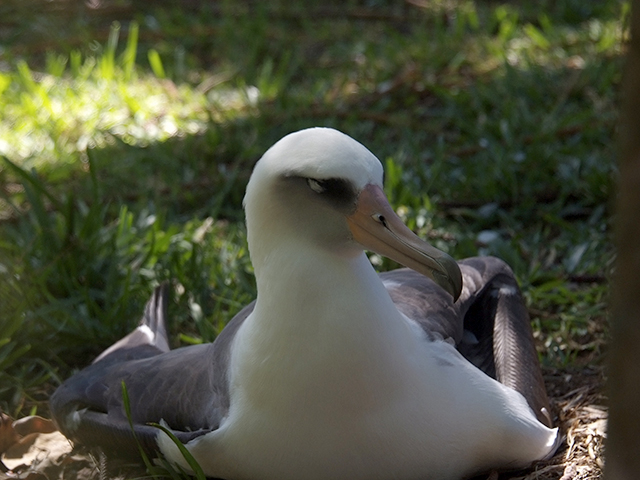 1. After waiting 60 to 65 days, the parents have watched their chicks hatch. This year, the live hatch count in the neighborhood is 6, half of last year's 12 chicks. Several experienced couples had bad eggs and one chick died a day after hatching.
2. This is one of the first hatched, a chick nicknamed Journey. Her parents are KP618 and KP252, an experienced pair who raised Weber last year. With previous mates, these two have parented a total of 7 chicks.
3. I was off-island when the chicks hatched, so I didn't get photos. To show the process, I am using photos from previous years. The hatching process starts with a small hole, known as a "pip", chipped out from the inside by the chick.
4. Over the next 24-48 hours, the chick continues to enlarge the pip. While the parent watches and makes noises, he or she does not actually help break out the chick. The chick must do it on its own.
5. This long ordeal is nature's way of ensuring the chick is strong enough to survive. This year one did not. We think the low number of hatchings and the poor results for experienced pairs is due to the strong El Nino interfering with the food supplies of the adult birds.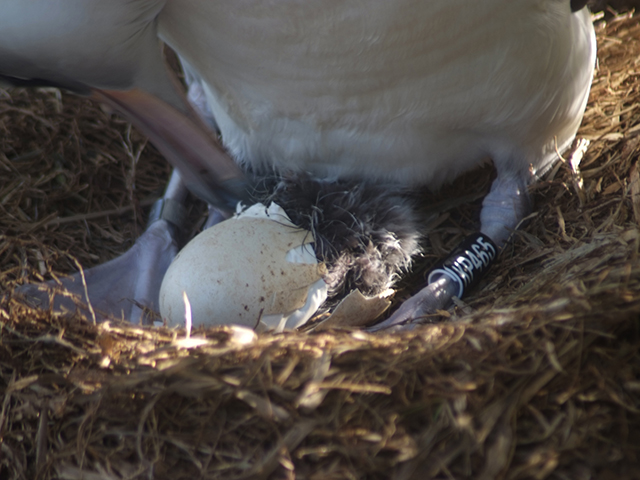 6. Finally, the chick emerges from the shell. During this last stage, the parent massages the chick with its beak to encourage the process.
7. Back to the present, in just the first week Journey has almost doubled in size. One parent covers the chick just like they did the egg, while the other parent brings back food for the chick. Here KP252, the mom, stands up to give Journey a little sunshine.
8. KP618 has just returned (he is in front in this photo). He sits close to the mother who is sitting on the chick. Once he has fed Journey, the mother will swap places and head out to sea to feed herself and bring back something for baby.
9. Journey has grown so much in a few days, she cannot be totally covered by dad.
10. Young adults and older unattached adults still roam. This is an interesting situation. KP618 is on the nest under the hedge at the left, literally less than 10 feet from where he himself was born. On the right is K769, a chick from 2010 named Barney. Barney is the offspring of KP618, also hatched and raised in the same hedge.
11. A pair of adults are enjoying each other's company. On the right is Lelani, a chick hatched in 2007 in this yard. She is now 9 years old which is when albatross start to breed. Hopefully next year, she and her possible mate will start raising chicks of their own. LAST SLIDE