January 14, 2016: Use the arrow keys to go forward and backward.
1. The nest count this year is only about one half of last year, when we saw 12 chicks hatched in the neighborhood. This year we only have 11 nests. Given the average success rate for hatchings, we expect only 4 to 5 chicks will be hatched. This drop is cyclic, probably tied to El Nino.
2. El Nino means the waters in the Pacific are much warmer than normal, disrupting the food supply. Many pairs of mates decide to not nest when there is uncertainty. In past El Nino years (2010 and 2007), we have noted a reduction in chicks with a rebound in the next year. For instance, this El Nino has severely disrupted the food source for California's sea lion population, causing starvation.
3. This is Champion (KP618) sitting on one of the eggs. Champion was hatched in 2004. In fact, he is less than 6 feet from the spot where he started life. This last month has been pretty dull, since the parent stays on the egg 24-7 until their mate returns after feeding. They stand up to stretch occasionally but never leave the egg.
4. Watching the change of shift is interesting. Often the one on the egg does not want to leave, even though he or she has been without food for 8-12 days. This parent on the right is being relieved by the returning mate on the left. They get very close to each other so the egg is not exposed for any more than a few seconds.
5. The returning male is actually pushing the female with his head to force her to leave the egg. She is reluctant to give up control.
6. As the male hovers over the egg, the female now prepares to leave to find her own food.
7. The male now lowers himself over the egg to start his duties.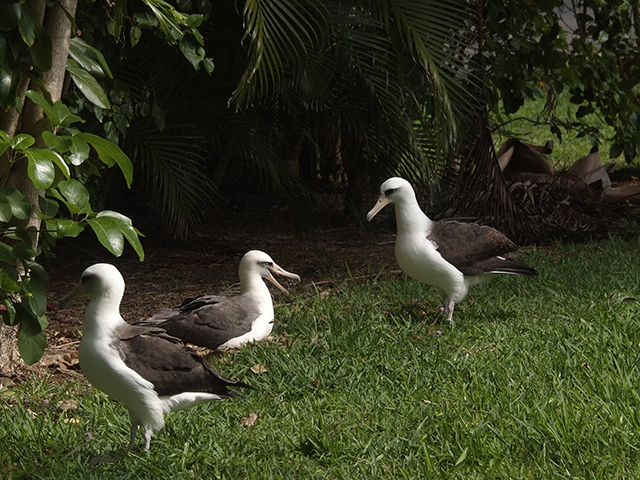 8. In addition to the nesting adults, we see a lot of unattached adults on "spring break", socializing to eventually find mates for the future. They are very curious about the nesters. Here, K770 (known as Coco hatched here in 2010) checks out KP531, one of the nesters. When she gets a little too close, 531 starts clacking to warn her to keep her distance.
9. This little party has two chicks hatched here. K232(2007) and KP239(2006) are displaying with an unbanded bird. Since all Kauai chicks are banded each year in May, this adult is most likely from Midway where over 400,000 chicks hatch each year. With that large population, U.S. FWS bands only a sample of the young.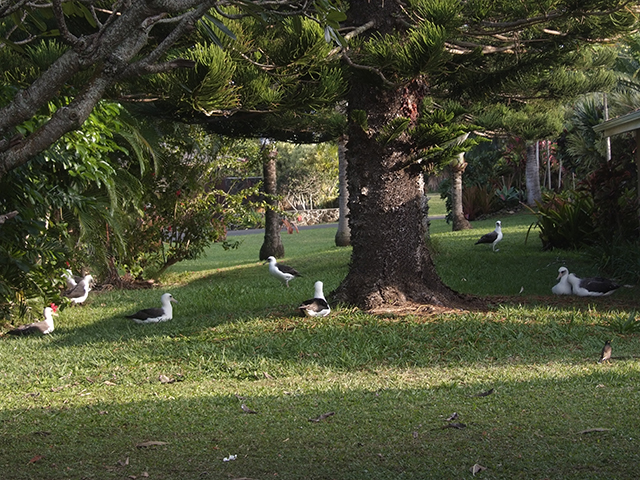 10. This photo captured 9 adults in one spot, 2 nesters and 7 unattached adults. In about 2 weeks, the first chicks for this year should hatch. The incubation period is 62-65 days, so we are over half way through the process. LAST SLIDE.