May 14, 2016: Adult size - adult feathers
New feature: check the "Video" page to view a 15 minute video on the life cycle of Albatross chicks.
1. The chicks are growing – they are close to adult size now. This month, we are looking the six chicks in this neighborhood. There are also about 6 more located on golf courses elsewhere in Princeville. This is 'Journey' resting in her spot next to the house next door.
2. Meet 'Peace'. She is the most developed and will probably be the first to fledge in late June. Most of the fuzz covering her white body feathers has fallen out. You can also see the adult wing feathers.
3. Her wings are almost fully developed. Here she stretches out when a stiff breeze comes up from the valley. The state wildlife team, working with FWS, will do the annual banding on Monday so that all chicks are permanently identified.
4. 'Kerwin' is located over on the next block at the house of Cathy, the main record keeper for the Princeville area. She provides the state and federal agencies valuable information from her daily observations of all of the birds.
5. 'Paris' is the fifth chick of KP240/KP497. This couple's first chick in 2005, Hibiscus, has come back and raised two chicks of her own in the same area.
6. This chick is unnamed since the property is owned by off-island people. Refusing to wake up for a photo-op, he/she is demonstrating the position the albatross use for sleeping on the open ocean. They twist their heads back to nestle on their backs as they float.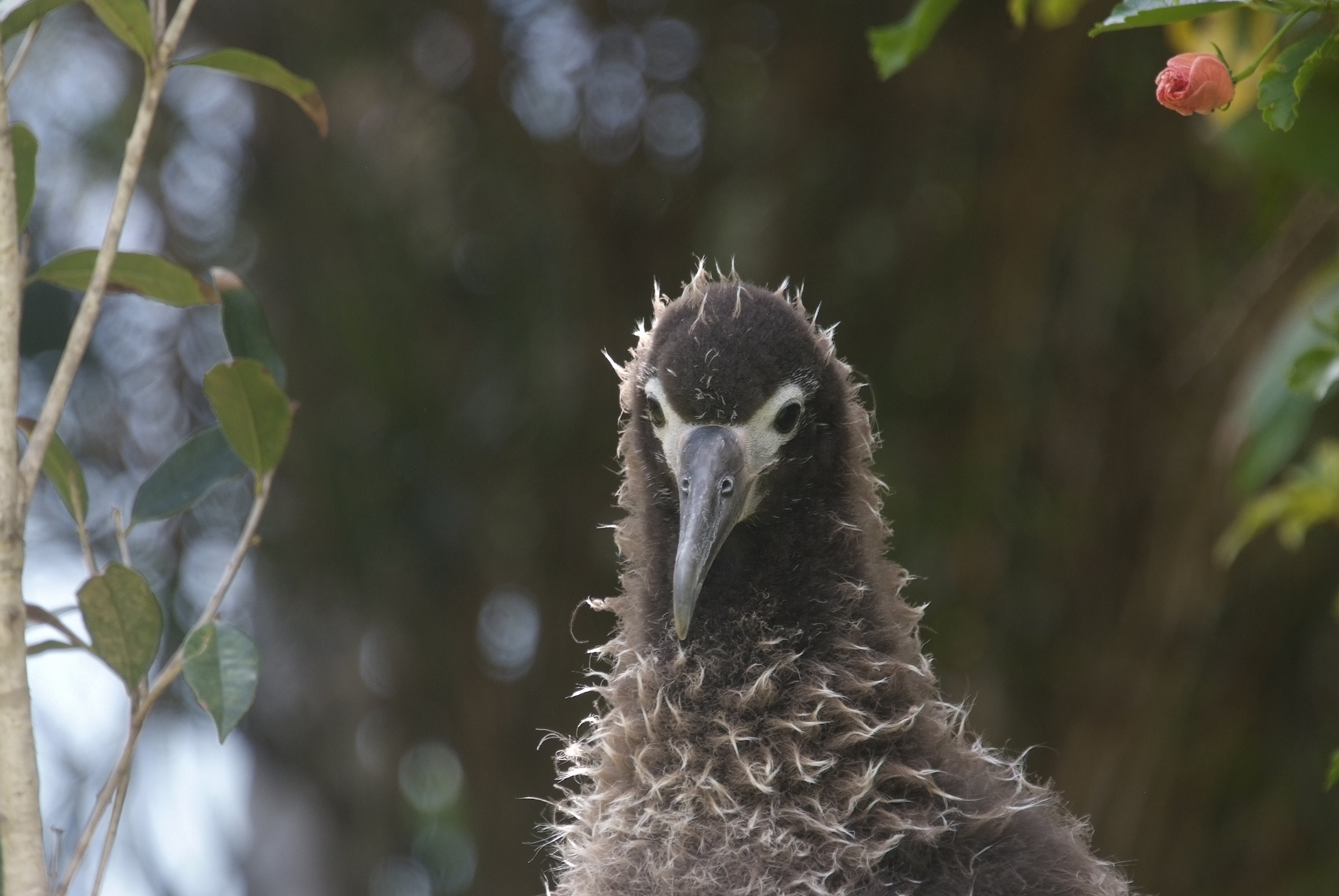 7. Number six is named 'Hakari'. He is one of the youngest, still retaining most of his fuzz.
8. His position is unusual since he can see the ocean behind him from his nesting spot. Most chicks are more inland and will not see the ocean until the day they get the urge to fledge. That day, they walk around searching for access to the ocean between the houses.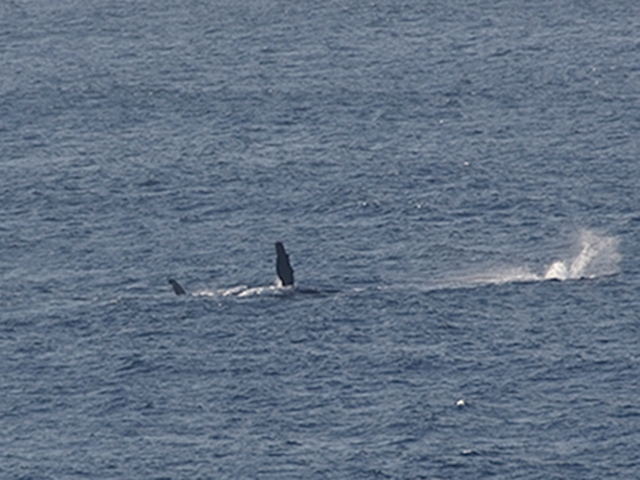 9. While waiting to get some photos of flying adults, I witnessed an unusual display by humpback whales. There are three whales playing here. In front, one has just slammed down a flipper, creating a big splash. Next, another adult has raised his 15 foot flipper to do the same. At the end, there is a baby whale, probably weighing 15-20 tons, imitating the action of the adults by raising his flipper for a splash. LAST SLIDE